From 1st August, if you're bringing seating with upholstery to the Recycling Centre we will direct you to the Upholstered Domestic Seating Container. 

WHAT?
Changes in regulation mean we have to separate items classed as Upholstered Domestic Seating that are brought to the Recycling Centre. These items contain 'POPs' (Persistent Organic Pollutants). Examples: sofas, armchairs and anything containing upholstery.
WHY?
Domestic seating often has a flame retardant added containing POPs. To make sure the environment is protected, the Environment Agency now requires these items to be incinerated in controlled conditions. 
HOW?
We're changing the way we collect and dispose of domestic seating. If you have any of the items highlighted below please place them in the Upholstered Domestic Seating container or ask a member of staff for advice.
| UPHOLSTERED DOMESTIC SEATING:  | NOT UPHOLSTERED DOMESTIC SEATING: |
| --- | --- |
| SOFAS & ARMCHAIRS | CHAIRS WITH NO UPHOLSTERY E.G. WOODEN |
| DINING CHAIRS WITH UPHOLSTERY | DESK CHAIRS |
| DESK CHAIRS WITH UPHOLSTERY | MATTRESSES |
| STOOLS WITH UPHOLSTERY | BLINDS |
| FUTONS | BEDS |
| BEAN BAGS |   |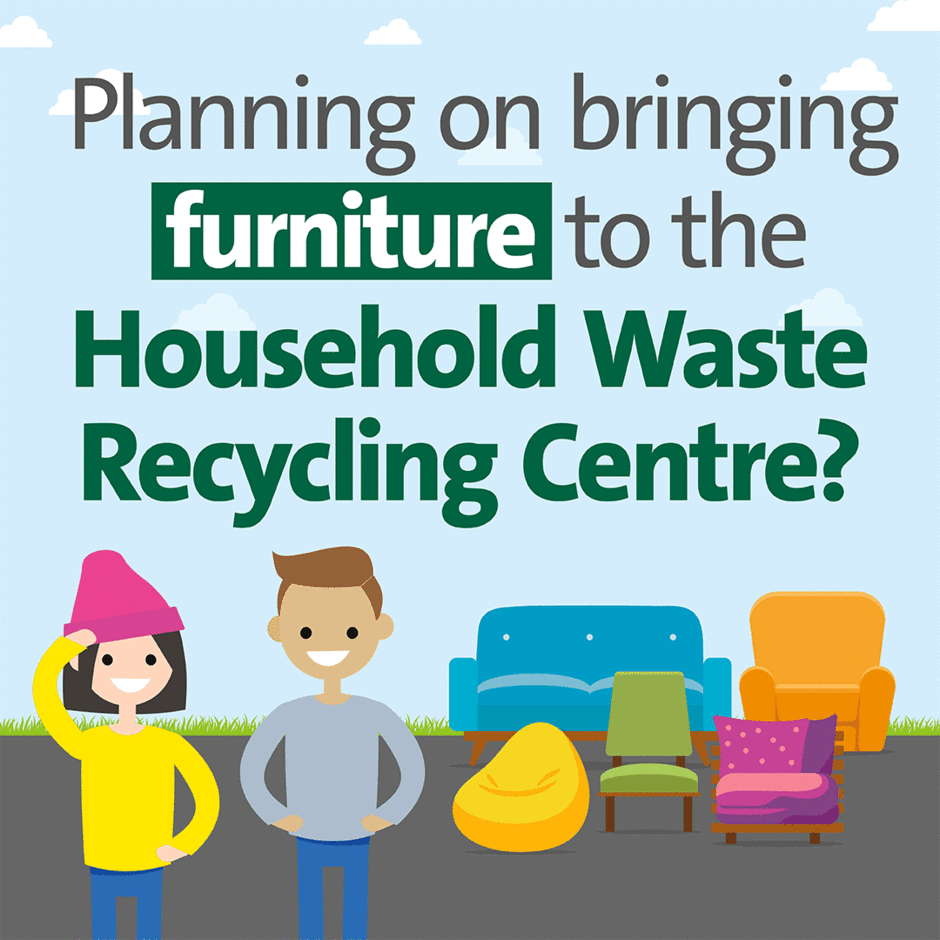 Persistent Organic Pollutants (POP's) are chemicals which were used in various products including pesticides and industrial chemicals, and released during chemical and agricultural processes. Historically they have been applied to soft furnishings. The manufacture, sale and use of products containing POPs have been banned since 2019 as part of the Stockholm convention. More info here. 
 
Why are POPs now an issue?
POPs are chemicals that don't break down in the natural environment. In a bid to protect our environment, the Environment Agency has brought in regulations to ensure local authorities and waste contractors dispose of the material safely. For more information click here.
 
Should I do anything with my soft furnishings at home?
Do I need to do anything different when I visit the Household Waste Recycling Centre with possible POPs materials?
If you have an upholstered item, please keep it intact. e.g. don't cut/break the item up to transport it. 
If the upholstery has damage, e.g. a tear in the upholstery, don't store other recyclable items near it during transit. 
Use the Waste Upholstered Furniture container (signposted onsite) or speak to a member of staff. 
Our staff on site will be proactive in approaching residents with this type of material to make sure it is disposed of correctly and safely.
What are examples of Waste Upholstered Domestic Seating that may contain POPs?
Sofas
Dining chairs with upholstery
Desk chairs with upholstery
Stools with upholstery
Futons
Bean bags
Armchairs
The following DO NOT usually contain POPs and can be disposed of in another appropriate container: 
Chairs with no upholstery
Desk chairs
Mattresses
Blinds
Beds